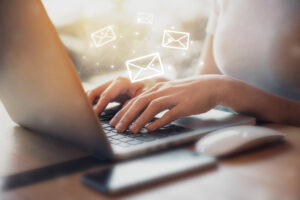 What do decking suppliers, tech companies, and retail operations have in common? Each type of business utilizes email marketing to cultivate lasting customer relationships. Building materials suppliers can also benefit from sending marketing emails to turn new customers into brand advocates. BPI knows that investing in email marketing can have big payoffs for lumber dealers, so we're sharing some email marketing tips and outlining just how effective email campaigns can be.
Why Lumber Dealers Should Invest in Email Marketing
Don't believe the myth that email marketing is outdated and ineffective — there are, in fact, numerous benefits. Lumber dealers should utilize email marketing because it:
Has an impressive ROI: For every dollar spent on email marketing, businesses can expect to achieve a $36 return on investment (ROI), according to Litmus.
Is lightning fast: More than one out of five emails are opened within the first hour of being sent. This is important for lumber dealers who want to reach their customers as quickly as possible.
Is more effective than social media: Nearly 50% more consumers prefer making a purchase from a marketing email than a social media post or ad.
Costs less than other strategies: One primary goal of email marketing is to foster customer loyalty. Since it costs five times less to retain an existing customer than to attract a new one, email marketing is a cost-effective strategy.
Works for B2B organizations: According to research from Hubspot, "64% of B2B marketers say their email marketing strategy was effective for meeting business goals in 2021." Further, the second most successful B2B content type in 2021 was e-newsletters.
Regardless of the benefits, knowing how to start email campaigns and turn them into sales may seem out of reach. However, getting your email marketing campaigns up and running may be a lot easier than you anticipate.
How to Get Started
Any successful email marketing campaign starts with a good strategy. To craft an effective, customer-focused email marketing strategy, lumber dealers must first select an email service provider (ESP) that's affordable and easy to use. Many of the top platforms on the market, such as Mailchimp, Moosend, and Constant Contact, have plans starting as low as $9 per month.
To utilize your ESP to its fullest potential, you'll want to build and segment your contact list properly. This will allow you to send the right email to the right people at the right time. If you're building your email list from scratch, one way to do that is to pitch your email newsletter on social media or in your email signatures.
When segmenting your email list, keep it simple. For example, you can split your contacts into the following categories: contractors, homeowners, and property managers. You can also simply ask your email subscribers what they're interested in — such as exterior vs interior design — and segment your list according to their responses.
Finally, you can get more sophisticated by pairing your email marketing platforms and segmented contact list with automation. This involves sending targeted automated emails to your contact segments according to their location, industry, customer lifecycle stage, or another characteristic. One way to incorporate email automation into your marketing strategy is to set up a drip campaign, which "is a series of emails that are sent out automatically once triggered by a certain action."
Marketing automation is making it increasingly simple to send out email campaigns but deciding what content to include in the newsletters can be difficult. Email marketing campaigns or newsletters can include:
Education pieces (for example, the pros and cons of different types of decking)
Upcoming educational sessions for contractors or homeowners
Product spotlights and updates on new items
Contests and promotions
About your dealership, team and community involvement
Testimonials or case studies sharing photos and stories of customer work
No matter the type of email you choose to send, be sure to include links to your social media channels so your customers can easily stay up to date on your company.
With email campaign benefits and content covered, see below for our top four tips to help you master your email marketing strategy.
4 Top Email Marketing Tips for Lumber Dealers
Personalize emails
While your emails may include information about your business or products, they should ultimately focus on the audience. Customizing and personalizing your email content shows that you know and care about your customers. This, in turn, can increase clicks and conversions.
Educate readers
Don't let your emails go unclicked. Instead, provide something of value to your audience — and be sure to include an enticing subject line.
Build trust
Trust is built through empathetic email content. Don't send blatant promotions; talk to the reader of the email as if they're a friend sitting across from you and provide information that can help them solve problems.
Track results
Tracking isn't just for inventory. You should also be tracking email marketing campaign results. When you know what works and what doesn't, you can deliver emails that make people want to buy from you. And if you need help with inventory tracking, we're happy to assist with that too!
With a minimal investment in email software and time, lumber dealers can build and continue to grow business with email campaigns and regular newsletters.