BPI and GAF, North America's largest roofing manufacturer, have teamed up to help dealers prepare for extreme weather damage and regional demand spikes for materials. BPI stocks the GAF roofing materials that dealers will need quickly, and GAF has a powerful business-building tool called WeatherHub to help dealers:
-Find high-quality leads with detailed hail and wind swaths to find properties most impacted.
-Plan jobs confidently with up-to-the-minute forecasts backed by AccuWeather.
-Close more sales using detailed 3-year address reports and storm-specific swath maps to help communicate with property owners and insurance companies.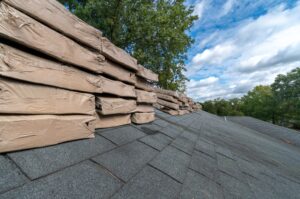 BPI is collaborating with GAF to provide the latest information regarding upcoming storms and post-storm damage areas that can be potential business opportunities for dealers and contractors. With accurate storm data and consulting regarding material supply levels, dealers can jump ahead of their competitors to capture the resulting storm damage business.
We talked with Mike Goldenstein, Strategic Account Manager at GAF, about WeatherHub and how BPI and GAF can help lumberyards and building material suppliers be ready when the storm hits.
BPI and GAF Team Up to Help Lumberyards Gain Storm Damage Business
BPI: How soon after a storm does GAF have access to numbers, and how accurate is the data?
Mike at GAF: We have data available on WeatherHub by 8 am the morning after the storm. The data is powered by AccuWeather, one of the most robust weather data centers in the world, so it's pretty accurate. We also use other hail tracking apps to provide information regarding hail size and reliable information on hail damage swaths by hail size.
BPI: How can you estimate how much product may be needed on-hand after the storm?
Mike: We've created algorithms that use the data from WeatherHub to help determine how many buildings within the storm damage path may have enough significant damage to warrant roof repair or replacement. BPI reps can review this data with dealers to map out the best strategy to gain this business.
BPI: Let's talk mobilization – how soon can GAF get products to market?
Mike: GAF has a strategic network of 34 manufacturing operations across the U.S. that helps ensure roofing materials arrive in peak condition where and when needed. Our collaboration with BPI means dealers in the upper Midwest can depend on well-stocked roofing supplies when needed.
BPI: What kind of resources does GAF put into a market impacted by a storm?
Mike: Orders typically come in about a month after the storm; once insurance companies assess the damage and contractors are hired. For this reason, GAF recommends that right after the storm, dealers work with BPI reps using accurate weather data to order roofing products and get ahead of the demand.
BPI: Does GAF have a contractor network to assist areas hit by a storm?
Mike: GAF has a certification program for roofing contractors which provides them with instant credibility and other benefits. Homeowners can find a list of GAF-certified roofers in their area through our website or through their dealers. We also have specific relationships with contractors based on storm work and highly encourage them and homeowners to "buy local" to support local lumberyards.
BPI: What kind of programs are available to dealers that capitalize on storm damage business?
Mike: We partner with suppliers like BPI to help dealers gain business by driving sales through education and joint marketing programs:
Training for contractors on how to assess roof damage and the right questions to ask
Learning how to assess a product's compatibility, availability, and reparability
Q & As with insurance companies for homeowners regarding coverage
Encouraging "buy local" programs for out-of-state contractors
Joint promotional items like door hangers, yard signs, or billboards
BPI's consultants are ready to help dealers get their storm damage campaigns ready to go!
BPI is proud to partner with GAF for the roofing needs of lumberyards and building materials centers throughout the upper Midwest. We're here to help dealers respond quickly to contractors' needs and grow their storm damage business. Call us to get your campaign going.