Ready to Handle Demand after a Storm?
This year has shown the importance of being prepared for damaging storms. The prevalence and severity of the storm season we experienced grew sales, but they could have grown even more. In the current market, a large majority of the storm business is going to big-box stores. With most of the storm damage sales going to big-box stores, you need a game plan for how you can beat them, and BPI is here to help.
Lumberyards will need supplies in stock as soon as the insurance adjusters get scope sheets filled, the negotiations completed, and the contractors hired. Being ready with the estimated number of supplies needed for the repairs (and no more) takes an activation plan, which can be done with the help of a knowledgeable and trusted supplier like BPI.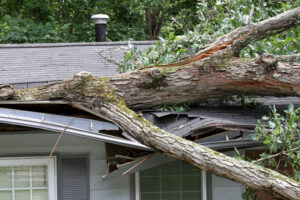 Partner with your Supplier to Create a Storm Damage Activation Plan
Forming a partnership with your supplier is crucial to optimizing inventory levels when anticipating storm damage business. It can be difficult to calculate how much product to have in stock before getting contractors' orders. On top of this, receiving those orders can take up to a month after the storm, resulting in a surge of orders that create a logistical nightmare. Collaborating with suppliers to assist in inventory calculations and creating an activation plan is key.
BPI can work with their dealers on a storm damage activation plan that will allow them to react quickly with accurate data, putting them at an advantage over competitors. Using the GAF WeatherHub interactive hail map and other building-level apps, BPI reps can provide their dealers with on-the-ground reports on the damage. They can also provide estimates on the number of shingles, siding and other products that will be needed once the contractors come to town.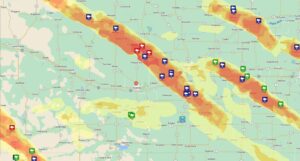 BPI reps can let dealers know how much is in stock at the factory and how quickly they can get the products to you. Knowing that you've got a plan to have product in stock after the storm will be a huge advantage in gaining storm damage business, especially from contractors who want to deal with a reliable lumberyard. Having an activation plan in place will ensure lumberyards that they'll have the data and inventory needed to optimize storm damage business, but understanding how to market your activation plan and showing that you're prepared is equally important.
Collaborate with your Supplier to Market your Storm Damage Plan
Once you know you'll have the storm damage data to react quickly, the second part of your plan is how to market it. It's important to proactively market your services so contractors and homeowners know that your lumberyard is the go-to source for supplies when the storm hits.
Collaborating with BPI and GAF roofing on marketing materials and messaging will keep your lumberyard top of mind and build trust in your staff's expertise. Dealers can collaborate with BPI on marketing programs such as:
Co-branded billboards, yard signs and door hangers
Social media marketing campaigns
"Buy Local" campaigns
The biggest hurdle for out-of-state contractors is that they're not local. However, if they tell the homeowners that they will buy local using your lumberyard, they almost always get the business. A Buy Local campaign can have a significant impact on your bottom line and is especially relevant for rural areas that don't have enough local contractors to handle all the repairs after a large storm. Capitalizing on a Buy Local campaign will require education directed at contractors and homeowners to maximize its effectiveness.
Educating out-of-state contractors on the advantages of buying from your lumberyard creates trust in the contractor by the homeowner. And for homeowners, knowing that their business and support team will remain with a local lumberyard can make all the difference in signing the contract. Buy Local campaigns are a great way to drum up awareness with contractors and support from homeowners, but they are not the only way to market your storm damage business.
What are some other Tactics you can use to Build Storm Damage Business?
There are many materials you can create, and interactive sessions you can host, to build business for your lumberyard.
For homeowners:
How to prepare for a storm with a handy checklist.
Lists of local contractors, tree trimming and cleaning services.
What to do after the storm: Safety tips, documenting damage and obtaining help from FEMA for temporary housing, meals and insurance claim assistance.
A question-and-answer session with insurance experts on what to expect from insurance carriers after the storm.
What homeowners can expect when dealing with out-of-town contractors and a checklist on how to choose a good contractor.
For contractors:
Give out BPI's Storm Restoration Kit – 8 questions to ask for roof replacement or repair.
Sessions on what contractors need to look for when assessing storm damage repair: Compatibility, Availability, and Reparability (CAR) to give more accurate estimates.
Lunch and learn educational sessions on roofing, siding, windows, doors, and other products.
Sessions on how contractors can gain leads from realtors or inspectors using WeatherHub to show a 3-year hail history of a home.
BPI wants to help our dealers increase revenue from storm damage business through consulting and collaboration. Contact us today to learn more!