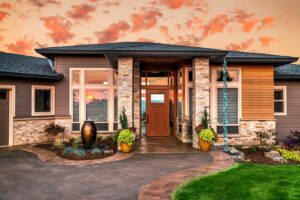 For building contractors, saving time while improving quality is a top priority. Creating partnerships with players in your supply chain that offer value-add services along with name brand products can help eliminate monotonous tasks, reinforce your reputation for quality work, and save you money. These factors are even more prevalent when it comes to your millwork products, where choosing your supply chain partners has larger consequences.
When it comes to millwork, builders have an important choice: Shopping from a big box store with an unreliable inventory of assembly-line products or partnering with a yard that's supplied by BPI, who is staffed with millwork experts and assembles your millwork ready to install.  When it comes to interior and exterior doors, having the doors expertly machine painted, or stained to order, framed, and has decorative glass and hardware already added is a huge time saver for busy contractors and helps ensure quality installation.
In fact, BPI constantly works to provide builders and lumberyards with the lowest total cost of purchasing by reliably supplying top quality products backed by excellent customer service.
Along with the lowest total cost of purchasing, here are 8 more reasons to partner with BPI on your interior and exterior doors:
 1. We work with the top manufacturers in the industry
Our millwork partners are the best of the best, no matter what you're looking for: Woodgrain Doors for interiors, Ferche Millwork for mouldings, Taylor Entrance Systems for exteriors, and ODL for doorglass and enclosed blinds (just to name a few). We only work with highly respected companies, so you know you're getting top quality products. And because they're all made in America, sourcing is not an issue.
 2. We stock the most popular styles and sizes
Whether you're building a new house or remodeling an old one, your client is probably going to want a popular and current style. Our sales reps routinely visit customers to keep a pulse on design trends. If it's in style, odds are we have it in stock.
 3. Our staff has years of experience with millwork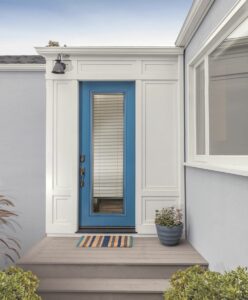 Let's say you're working with a homeowner with a specific and unusual request to retrofit a new millwork product into their old home. Big box stores and suppliers with unexperienced staff will probably tell you it can't be done. BPI's staff have enough millwork experience that they've seen it all, and they've got the know-how to help make your client's dreams come true. We're not just here to sell—we want to help you "be the hero" and ensure your end customer is happy with the results.
 4. We do everything in-house
We paint and stain the doors. We hang them on frames. We add hardware and even glass inserts. It's all done by BPI. We build and assemble your interior and exterior door orders and deliver them to the lumberyard ready for the jobsite. This way contractors get better quality control and security knowing that they'll be installing products that are completed as ordered.
 5. We make sure everything's done right the first time
Because we do everything in-house, we can keep a close eye on quality control. We take extra care to avoid errors because we know how they affect everyone down the supply chain, from the lumberyard to the contractor to the homeowner.
 6. Our doors arrive at the lumberyard finished and ready to go
When you get your hands on a door from BPI, it's already been hung and assembled. All that's left for you to do is put it in the opening, install it, and walk away. This saves you time, money, and hassle.
 7. Our doors are specially packaged to minimize damage in transit
We package every door individually. We put them in cardboard and then load them onto heavy duty steel door pallets so they can get through the shipping and handling process in perfect condition. The same goes for mouldings. This is especially helpful in protecting these products on the job site. No matter what millwork you order, BPI will deliver it with care.
 8. We offer a millwork configurator for all our products
With BPI's millwork configurator software, you can sit down with your local lumberyard rep to plan out all the doors and millwork for your project. You can see how different door styles, colors, and glass will look while the program updates costs in real time. This allows both contractors and homeowners to make informed decisions quickly, without having to wait for quotes.
Get in touch with BPI today
We're proud of our millwork expertise, and we're always excited to help contractors build great homes. If you've been looking for a supplier that takes building materials seriously, reach out to our team of experts to learn more about what we have to offer.
Looking to upgrade your home or building a new one?
See what's trending in interior and exterior doors and check out how TimberTech decking can create a stunning outdoor living area.