There are few things better for enjoying the nice summer weather than a great deck. But not all decking materials are equal.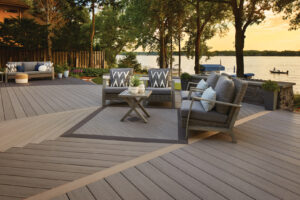 If you're planning to build a deck this year, you need material that can endure both thunderstorms and sunshine. Material that's durable enough to handle a parade of cookout guests. And if you're hoping to get in a full summer of fun, you need decking that can be installed quickly—after all, summer is almost here!
Traditionally, deck builders have used treated wood, and it did a pretty good job in its day. But wood also requires a lot of maintenance to prevent cracking, fading, mold, and mildew. Now, we have excellent low-maintenance, long-lasting alternatives: advanced PVC and composite decking. PVC decking is a 100% plastic polymer alternative to traditional lumber, while composite decking is made of a blend of plastic polymers and real wood grain that combines the best features of both materials.
At BPI, we offer TimberTech decking boards that not only outperform wood but are also better for the environment. Plus, TimberTech decks are stylish and attractive, so you'll get compliments on more than just your burgers.
In this blog, we'll explore the benefits of composite decking and explain why you should consider purchasing TimberTech decking and railing.
The Benefits of TimberTech Decking
There are plenty of great reasons to opt for TimberTech, including: cost, durability, aesthetics, and sustainability.
Cost: TimberTech will save you money
In the past, many builders opted for wood over composite materials in part because wood was much cheaper to use. That's not the case anymore. As TimberTech's products have evolved, they've also gotten more affordable, and now initial building costs for composite materials are comparable to those of wood.
However, TimberTech's innovations really pay off when it comes to long term costs. To properly maintain wood, you need a laundry list of supplies, including stains or sealants, power sanders, and a pressure washer. And even if you have time to do the necessary maintenance, there's still a decent chance that you'll need to spend more money repairing or even replacing your deck in the not-too-distant future.
TimberTech may look just like wood, but it doesn't behave the same way. It's much less prone to sun rays, moisture, warping, splintering and other kinds of damage, and as a result, it looks better, longer. To maintain, you don't need much more than a broom, a garden hose, and a snow shovel.
All of these factors add up. Over the course of a decade, a traditional wood deck can be 3-4 times more expensive to maintain than a deck built with TimberTech. Those savings could buy you a lot of extra hot dogs!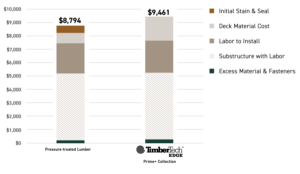 Durability: TimberTech lasts longer
Composite decking is not only easier and cheaper to maintain than wood, but you'll also get a lot more use out of it. Why?
Think of it this way. TimberTech took everything we've learned over the years about building with wood and engineered an alternative that is specially designed to resist moisture, UV rays, and much of the wear and tear that comes with regular use. And TimberTech's PVC and composite boards are both polymer-capped, which makes them that much more durable.
Aesthetics: Nobody will realize your deck isn't wood
Okay, so it's cheaper and it lasts longer, but come on. Nobody wants a plastic deck. They just look too… plastic-y. Right?
Well, TimberTech's innovations have not been solely structural in nature. They've also managed to make their boards look just like the real thing. And while the real thing can quickly and easily lose its rich hue after prolonged exposure to the elements, TimberTech's collections will retain the stylish, attractive qualities they had when you first installed them. Only the most particular wood enthusiasts will be able to tell the difference, and even if they can, it'll be hard for them to say your deck doesn't look great.
Sustainability: TimberTech decks are perfect for guilt-free relaxation
Real wood decks contribute to deforestation, and if you opt for exotic lumber, you'll be affecting some of the most ecologically vital forests in the world. If you're looking for an eco-friendly option, go with one of TimberTech's PVC decking alternatives, which requires exactly zero trees to be chopped down and is made of 50% recycled material. Composite boards are made of up to 80% recycled material, with most of the remaining 20% being wood grain—which still makes for a drastic increase in sustainability compared to 100% wood decks.
TimberTech is committed to sustainability and in 2021 diverted half a billion pounds of waste from landfills, using it to create beautiful decking materials. For the environmentally conscious homeowner, that kind of peace of mind is a nice bonus. BPI has worked with AZEK/TimberTech to implement their Full-Circle PVC Recycling™ program, helping contractors to avoid disposing scrap in a landfill.
Buying TimberTech from BPI
While TimberTech can give homeowners the deck of their dreams, buying it from BPI can make life a lot easier, too. We have a wide variety of TimberTech products available at multiple locations, and our approach to packaging ensures that decking material will arrive in pristine condition.
Plus, our expert team offers a degree of technical knowledge that can really come in handy, especially if this is your first experience building with PVC or composite decking material. We also carry Diamond Pier's innovative foundation systems that don't require any messy excavation, are much faster to install, and eliminate concrete drying time.
If you're interested in using TimberTech rail and decking material for your next project, reach out to our team today. And if you're looking for modern composite decking ideas, you can use TimberTech's deck design tool to start brainstorming. A great summer is just around the (composite) corner!