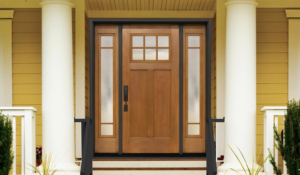 Doors obviously have an important function, but they also help to establish a home's character. Your front door gives a sense of your taste and even your personality: rustic or modern? Sleek or ornate? Colorful or subdued? When renovating your home, you can express yourself by choosing doors that fit your style as well as providing security and weather protection.
It's a good time to look at what's trending in exterior and interior doors, as well as how BPI can help you and your contractor find doors that will make your home feel like it's uniquely yours.
Exterior door trends: Glass, Metal, and Timbergrain
Right now, glass front doors are extremely popular, and it's easy to see why. Not only do they let in plenty of natural light, but they can also be quite beautiful. BPI carries Kenyon's Glass doors, whose designs range from classic symmetry to stylish modern looks that resemble the Art Deco movement of the early 20th century (explanation & images here). Kenyon's Glass doors also provide quite a bit of privacy while still letting in light.
BPI also offers ODL's decorative doorglass and entry treatments in a wide range of styles, from simple to sophisticated, without sacrificing privacy. Their collection of internal grilles and blinds not only look great; they reduce heat transmission by up to 28% and suppress unwanted noise. You can also control the amount of privacy and light coming into your home with their cord-free 'fingertip' control blinds.
If you're looking for extra security and durability, steel doors are also popular. Taylor Entrance Systems offer smooth steel doors that are ideal on a sleek, modern home. The TruKote line offers pre-finished, insulated steel doors that are designed for strength, security and durability with a finish that requires no painting or staining. Their Trugrain steel doors are ready to install and combine wood aesthetics with the strength you get from steel.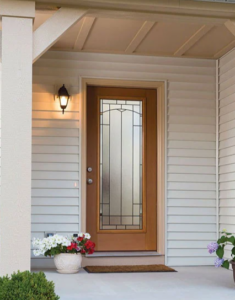 Other wood-like alternatives are Taylor's Timbergrain and Timberline textured fiberglass doors. If you want a bit more of a rustic look, but you don't want to deal with splintering wood, fiberglass doors are engineered to handle moisture and humidity in a way that traditional wood doors are not. Farmhouse doors are particularly fashionable, and Taylor's fiberglass offerings can keep you on-trend without creating a maintenance headache. And if you need to meet ADA requirements, Taylor provides 4-foot-wide doors as well.
Your exterior doors are crucial when it comes to curb appeal, heat transfer, security, and a host of other factors, but your interior doors can truly solidify your home's design and make-or-break the aesthetic you are going for.
Interior door trends: Keep it simple or slide into something fun
If you'd like to keep your doors more neutral to allow the rest of your décor to pop more, you may want to opt for gray interior doors, which add some depth and texture to a space without making it too dark. Or you can lean into making your doors dark – black, charcoal, and navy are popular colors – in order to create a greater contrast with bright, warm walls.
BPI offers the best quality and selection in interior doors from companies like Woodgrain, Koch, Steves Doors and Unidoor that look great in whichever color scheme or design style you choose.
Whether your taste runs to the formal, contemporary, or casual, BPI will have a door to fit your style. You can choose from a wide variety of wood species or a primed medium density fiberboard (MDF), which allows for a better quality paint finish and color matching process. For example, Koch Doors' selection of stile and rail profiles, panel options and wood species allow you to choose doors that complement your other woodwork and cabinetry.
With clean lines and a contemporary design, you can't go wrong with BPI's Primed Molded Door Collection. This collection is durable and has a timeless design you will enjoy for years to come. BPI's Router Carved Collection, made from MDF, allows you to get more creative in design and is available in panel, bifold, and fire-rated doors.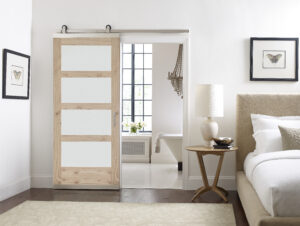 If want a distinctive way to make your space more flexible, you can take a big swing with a sliding barn door. BPI's Barn Door Collection from Woodgrain is the perfect fit for modern, contemporary, and rustic applications. You can leave them open to make the space feel bigger or close them for more intimacy. And they can also become a great conversation piece for guests. BPI carries other creative Woodgrain options like French doors, router carved doors, café doors and bifolds, which can add elegance or playfulness, depending on your design style.
Design the doors you desire with BPI
No matter which trend you like the most, BPI offers doors, cladding, decorative glass, distinctive hardware and other accessories that will give you both the look and the functionality that you're looking for. Check out our wide selection of interior and exterior doors and accessories and talk to your contractor today about finding a BPI dealer near you. BPI will assemble the doors to the specifications you desire and get them to your local dealer ready for install. Make your exterior and interior design selection and installation easy with BPI.