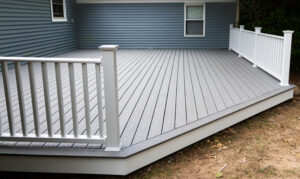 Are you using sustainable, recyclable materials for your decking?
Consumers want to purchase from manufacturers like TimberTech AZEK, who recycle and reuse materials to be environmentally friendly by reducing waste.
Contractors and builders used to default to using pressure-treated lumber when building a deck. Today you can select "engineered" options, such as composite or PVC decking, that are high-performance, low-maintenance and sustainable. In fact, TimberTech's capped composite deck boards are comprised of up to 80% recycled content and their capped polymer boards are made with approximately 50% recycled materials.
One engineered option is rigid polyvinyl chloride (PVC), an extremely durable material that is resistant to chemicals and weathering. This makes PVC an ideal choice for residential and commercial construction, especially outdoor decking. PVC is much more water- and mold-resistant than composite or lumber, so it's the best choice when used in areas with high rainfall levels or around bodies of water, such as lakes or rivers.
Benefits of AZEK PVC Decking for Contractors and Homeowners
PVC and composite decking materials are both sustainable options but they have some key differences, as outlined in this TimberTech article: Busting the Myths Around PVC vs Composite Decking.
Benefits of TimberTech® AZEK® PVC decking include:
Weathering and UV exposure resistant
Water and mold resistant
Easier to handle and transport; ideal for construction projects
Simple maintenance — no annual staining and sealing needed
Decades-long durability which ultimately saves money
Eco-friendly because it can be recycled and re-used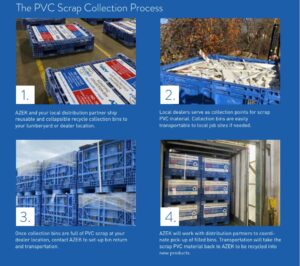 Whether composite or PVC, TimberTech's sustainable recycling program reduces the amount of virgin lumber used in deck building. By choosing sustainable decking from TimberTech, you support a more sustainable future because of their AZEK Full-Circle PVC Recycling™ program, which keeps millions of pounds of waste out of landfills each year and slows deforestation.
Using one of TimberTech's sustainable options also prevents the release of volatile organic compounds (VOCs) found in wood deck stains and cleaners, which can harm you, your family, and the plants and wildlife near your deck.
TimberTech is dedicated to making a lasting impact on our planet through sustainable manufacturing practices and innovative recycling initiatives. This one-of-a-kind program collects, returns and recycles scrap PVC from suppliers, contractors, decking dealers and mill shops.
Their program diverted approximately 500 million pounds of waste and scrap from landfills in 2021, an increase from approximately 400 million pounds in 2020. By the end of 2026, they aspire to re-use 1 billion pounds of scrap material and your lumberyard can be part of that initiative.
Promote Sustainability: Partner with BPI to Recycle AZEK PVC Decking
BPI, an AZEK TimberTech distributor for dealers and lumberyards, is helping with this initiative by providing bins to collect PVC decking scraps. They are then cleaned, processed and returned to AZEK to be turned into brand new decking, siding, cladding and trim.
Traditionally, scraps are created and thrown away when contractors cut a piece of decking or siding. Now, with the Full-Circle PVC Recycling program, AZEK collects these scraps through their network of distributors like BPI, who work with their dealers to collect PVC waste from job sites. Aside from reducing their environmental impact on the planet, this helps contractors save money and reduce disposal fees.
The AZEK program recycles all forms of rigid PVC scrap, including trim boards, decking, siding, piping, window components, fencing and accessories. BPI can help you get started with this recycling program by supplying PVC bins and collecting them when full. Here's how the program works:
If you supply AZEK decking and would like scrap PVC collection bins at your business, contact the team at BPI to be part of this innovative recycling initiative.