Is your lumberyard losing money due to inaccurate material takeoffs?  If you underestimate, delivering an additional bunk of lumber to the job site can cost between $500 – $1000 per run.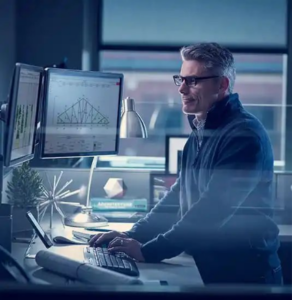 BPI and MiTek have a solution to improve your profit margins by creating more accurate material takeoffs. This is crucial to dealers, especially those with multiple locations that supply hundreds of customers. While a slight loss on an inaccurate takeoff may have a minor impact on a single dealer, they can add up to a significant profit loss for multi-location dealers.
Using 3D structural modeling software for more accurate material takeoffs is a good solution, but this software can be expensive and difficult to use. However, builders that purchase MiTek structural products from BPI have access to MiTek's modeling solutions, MiTek Supply and MiTek Deck Designer™, that meet the needs of building material dealers and contractors.
How Building Materials Estimator by MiTek Improves Takeoffs
MiTek's team knows that supplying structural products is just one piece in a complex design-supply-build process for lumberyards and their contractors. That's why when you buy MiTek's products, you also get access to their full-featured 3D structural modeling solution. With MiTek software solutions, you can create an optimized, buildable structural frame or deck in a virtual world.
LBM Journal reports on the increasing adoption – and anytime access – of software, apps and other tech tools like MiTek Supply that are boosting efficiencies for dealers across the country and meeting the demands of a younger generation of workers.
MiTek Supply helps dealers conserve time and materials, lower project and labor costs, and accelerate building cycles. In addition, MiTek's dedicated service model can provide quick turnaround times on designs due to its worldwide design staff. These factors also help to eliminate errors that can occur in material takeoffs.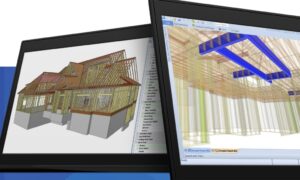 MiTek's 3D Modeling Software Helps Lumberyards Reduce Error and Waste
With 700 customers, 120 staff and $40 million in revenue, McCabe Lumber found that their 12-member outside sales staff spent 50% of its time creating estimates. However, many of the estimates were not accurate because the sales team was rushed to complete them. After implementing MiTek software for more precise takeoffs, McCabe's sales staff completed takeoffs in half the time. Their material counts and delivery stages are now so accurate that they see a clear path to reducing the error and waste rate from 8% down to 2%.
Jerry Tepe, VP of Sales at McCabe Lumber, states that their estimates are very quickly getting a market reputation for accuracy, "and that is its own selling tool for new business and customer retention. When a new prospective builder customer gets shown the MiTek building information model and sees how accurately we are pulling quantities, that's just very impressive, and nothing beats that."
Whole house estimating requires a big learning curve and takes years of experience. Many of these experts are retiring, creating the need for modeling software. Dealers can create highly accurate material estimates based on MiTek's virtual 3D model, allowing costs, quantities and other data to be verified before construction.
MiTek Supply is pre-loaded with products from the leading engineered wood product manufacturers. And collaboration is easy for builders and their subcontractors with joint accessibility to MiTek Viewer, a tool that allows all parties to work from a single source of truth ensuring efficient installation of electrical, plumbing and HVAC systems.
Benefits and Features of MiTek Supply:
Benefits:
→ Eliminate guesswork on takeoffs.
→ Shared 3D model to identify and resolve design issues faster.
→ Viewer integration allows confirmation of the design with customers during the estimating phase.
→ EWP layout and design provides verifiable bill of materials that are up-to-date and traceable to the source.
Features:
→ 3D virtual framing model
→ Automated hanger selection
→ Import takeoffs into your ERP system
→ MiTek Viewer collaboration
→ More accurate material quantities
→ Customizable quotes
Material Estimating: Let MiTek be on Your Team
With MiTek Supply, lumberyards can outsource the design to MiTek or receive training to have a dedicated designer on their staff. And while implementing sophisticated modeling software requires work up front, such as training and cleaning up SKUs, the results can significantly impact a lumber dealer's bottom line.
National Lumber in New England has nine locations and 657 employees, including 55 MiTek Supply designers/estimators. MiTek software is now indispensable to their estimating capability. Manny Pina of National Lumber states they used to do their estimating "caveman style." Now with MiTek Supply software, each sales rep fills out an electronic job data sheet with trusses, iJoist, millwork and other items required for the job and then can quote the job before doing the design work.
BPI knows that supplying lumber and specialty dealers requires more than delivering goods. It's about creating a partnership that helps lumber dealers succeed in an increasingly competitive environment. That's why we partner with component manufacturers like MiTek that have the same philosophy and provide tools and expertise to help lumberyards create more precise takeoffs and designs.
BPI's mission is to help provide lumberyards with a strategy for success against big box stores. One of those components is to collaborate with builders to create accurate and helpful designs and takeoff lists. See how BPI can help your lumberyard improve profit margins and why it's important to choose the right supplier.