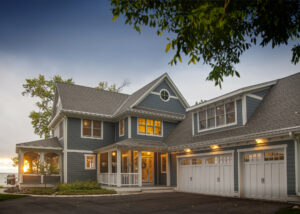 Even if you aren't looking to sell your home any time soon, it's important to maintain curb appeal. It always feels good to come home to a house that looks stylish and matches your personality. Whether you're constructing a new build or updating your home, we've got some ideas to ensure your next project is on-trend.
Trendy Home Colors in 2023
Neutral colors are still the trend. Grays and off-whites are easy to design around, while beiges and browns can offer a bit more warmth without sacrificing neutrality.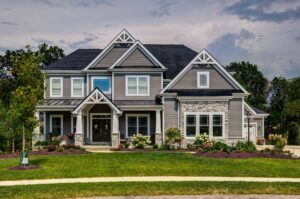 However, neutral colors have become so dominant that you may feel the urge to push back a little. When every home on the block is gray, it can start to feel a little dull! Introduce some color by opting for shades with blue or green undertones or lean in and go for a rich forest green, sea blue, or even a brick red. Bold colors can add a lot of personality and class to any exterior. (If your HOA has color guidelines, you may want to check those before you go too bold, if only to avoid any awkwardness with your neighbors.)
Maybe you are looking to add boldness to your exterior while keeping your siding neutral, an easy way to blend a pop of color into your home's design is through your front door.
Provide Visual Interest with an Eye-Catching Front Door
One way to split the difference is to go with neutral exterior walls and contrast them with a bright and colorful front door. Teal, lime green, and tangerine doors can give your home a flavorful pop without committing to a bold color scheme for the entire exterior.
If you prefer design over color, however, you can go with a stylish art deco glass door, a rustic Timbergrain door, or a modern metal door. BPI carries a large selection of stylish exterior door options to make your front entry a statement piece. When it comes to millwork, where you get your products from is a very important decision. Luckily, we have eight great reasons to purchase your exterior (and interior) doors from BPI.
And leading up to your front door, an easy way to make your home more inviting and draw eyes toward your entryway is by adding stone-and-paver walkways. They're visually clean, easy to maintain, and give your neighbors a pleasant path to your front door.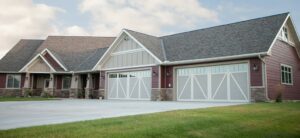 And don't let anyone tell you that garage and storm doors can't be fashionable! BPI offers good-looking storm doors from Larson, garage doors from North Central, garage door cladding from Frontline, and garage door seals from Snirt Stopper, so you can stay warm while your garage door looks cool.
While your front door, entry walkway, and garage door choices are going to be areas that typically grab your neighbors' eyes first, incorporating your personality into the siding is a perfect you to make sure your design completely envelopes you!
Trendy Design Choices
Cladding, trim and mouldings can give your home a distinct, customized look. BPI offers a wide choice from their AZEK Exteriors collection, allowing you to add elegant details with beautiful, diverse materials that are easy to build and install. In fact, mixing exterior materials is very popular right now and cladding with TimberTech composite cladding offers a way to add a unique element to elevate your home's curb appeal.
At BPI, we carry a wide variety of siding options that are both stylish and improve the value of your home. We suggest James Hardie's selection of siding with woodgrain textures in grays, beiges, and blues. And their Mountain Sage shade of green is both understated and unique, and can give your home a woodsy, natural feel. Their Baked-on ColorPlus® Technology has greater resistance to fading, chipping and cracking, meaning less maintenance for you while your home stands the test of time.
Updating old windows with a modern style can add curb appeal and bring in more light while lowering your heating and cooling bill. BPI carries NorthStar Windows available in seven standard interior colors and finishes to complement your décor. They're also backed by a transferable, limited lifetime warranty.
Columns can also add visual interest to the front of your home. Whether you're adding columns or replacing damaged ones on a Craftsman, BPI carries HB&G aluminum, fiberglass and wood columns in a wide variety of designs. Their architectural wood shop can produce a complete line of wood column styles and sizes on a stock and custom size basis.
And of course, no home is quite complete without a deck in your backyard that not only pulls your design together, but also offers the perfect hang-out spot for the neighborhood.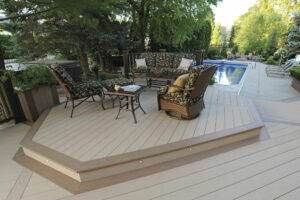 Don't Forget the Deck!
Some homeowners have avoided investing too much in a deck in recent years, and for an understandable reason: They can be a real chore to maintain! Real wood decks tend to take a beating from sun and rain alike. However, thanks to TimberTech's innovative, low-maintenance composite and PVC decking, decks perfect for entertaining are making a comeback.
TimberTech offers a range of blacks, browns, grays, tans, and whites, so whether you stay neutral with your exteriors or opt for more color, you'll be able to find decking that pairs perfectly with the rest of your design. See how TimberTech can ensure your deck is the neighborhood star of summer!
You can Trust BPI's Design Team
If you want to make sure your next exterior project is the envy of the neighborhood, reach out to BPI today. Our team of experts will help you navigate our expansive catalog to find the best design choices on the market.