The roof is a symbol of protection—there's a reason people refer to having a home as "putting a roof over your head." Roofs bear the brunt of harsh weather, and after enough time, the scorching sun, rain, hail and heavy snow will leave any roof in a rough state.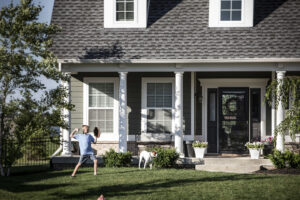 So, how do you know when it's time to repair or replace your roof? What are the best roofing options available? And how much will those options cost? In this blog, we'll answer all three of those questions.
When is it time to get a new roof?
The first thing to consider is the age of your roof. If it's been more than 15 years since your roof was installed, it may be due for a replacement. But that's not a hard and fast rule by any means; high quality shingles that were installed by a good roofing company could hold up for 30 or even 50 years.
For the most common type of shingle – asphalt—30 years is the reasonable upper limit of its lifespan. Asphalt shingles are the most common type of roofing material sold today. They can be found on more than 80 percent of new homes because they're an affordable option. Most come with warranties of up to 25 years – or a lifetime warranty when purchasing most types of GAF shingles.
Of course, you should also personally examine your roof, both inside and out. If any shingles are patchy, torn, curling, cracked, filled with holes, or just plain missing, that's a good sign that the whole roof needs some attention. Excessive granule loss — especially that which results in bare patches — can be a symptom of aging. If the roof is sagging, or if there's buckling around the roof flashing that weatherproofs the system at its edges, the need for attention could be urgent.
GAF, the largest roofing manufacturer in North America, has a list of things you should look for to determine whether your current roof needs to be replaced. (P.S. GAF roofs protects more homes and businesses in the U.S. than any other products.)
Nine signs around your home that may signal roof damage:
Sagging on the roof
Excessive granule loss
Missing, torn, or curling shingles
Holes or cracks in shingles
Buckling or tears around roof flashing (material used to weatherproof or seal the roof system edges)
Stains or decay on soffit (siding protecting the underside of roof's overhang) and fascia (siding protecting the end of roof rafters—where gutters are attached)
Attic leaks
Blistering or peeling interior or exterior paint
Stains or water damage on interior walls and ceilings
And always keep safety in mind to prevent injuries when checking your roof or let the pros assess roof damage.
What are the best shingles to choose for my roof?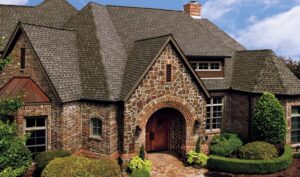 If you've assessed your roof's condition and decided it's time for an upgrade or replacement, you should look into GAF's wide selection of shingles. Not only are they an economical and durable choice, they come in a wide selection of colors and styles to meet your design needs.
GAF's Timberline® HDZ™ shingles have a high dimensional wood-shake look and use LayerLock technology to increase their durability, strength and endurance against the elements. They also have the widest nailing zone of any shingle, which makes them easier and faster to install – a great benefit to contractors.
Timberline® Natural Shadow shingles are the top selling shingles in North America, and for good reason: they look absolutely beautiful while still being dependable. A classy roof that offers the visual warmth of wood can go a long way in boosting your home's curb appeal and resale value.
Then there are Timberline® ArmorShield™ II SBS Modified IR singles, which are just as beautiful but also have UL 2218 Class 4 impact resistance, which means you can drop a 2-inch steel ball onto a shingle from 20 feet up and not see any damage. If you live in an area with frequent hailstorms, you should definitely consider it.
>> The Impact-Resistant Shingles to Consider in Hail Prone Regions
These and many other GAF shingles are available from BPI and come with a lifetime warranty. For regions with strong winds, GAF Timberline HDZ®, Timberline® UHDZ™, and Timberline® AS II Shingles, all carry a strong wind warranty. The GAF WindProven™ Limited Wind Warranty* is a first in the roofing industry, as it has no maximum wind speed limit for coverage.
>> Windy Season? How to Identify and Fix Wind-Damaged Shingles
You can even use GAF's Virtual Remodeler to see how each style and color would look on your house. Just make sure you look at some shingle samples, too, since colors can look a little different on a screen than they do in real life.
How much will it cost to replace my roof?
There are four factors that determine the total cost of a replacing a roof: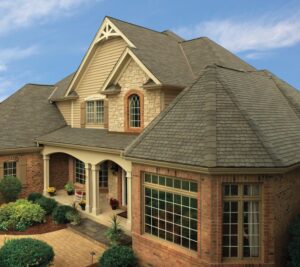 Home or building size, the roof's square footage
Roof materials
Slope and pitch of the roof
Where you live – cost of living, climate, local building codes and permit requirements
To determine how much it'll cost to replace your roof, first measure the square footage of your roof. Then multiply that square footage by the cost of the shingles you choose and add in costs for other materials, such as fasteners, ventilation, underlayment and labor.
Your contractor will also need to assess the overall condition of the roof – does it need a full replacement or just a partial one? – as well as the slope and pitch, which can affect the difficulty of the job. You should also factor in permit costs, any challenges posed by local building codes, how climate may impact your roof in the future, and any warranties you may be eligible for. Make sure you choose a trustworthy contractor who will give you a fair estimate based on all these factors, as well as labor costs.
>> Learn more with GAF's handy guide to Understanding your Roof Replacement Cost
Repairing or replacing a roof is a big project, but you don't have to go it alone. Reach out to our team of experts who partner with GAF to help you select the right shingles for your home.