BPI is a supplier of top-quality millwork products such as interior and exterior doors, fascia, base trim, crown moulding, hand railings and more. We provide lumberyards with American-made products – the timber is cultivated, produced, machined, painted or stained and assembled here.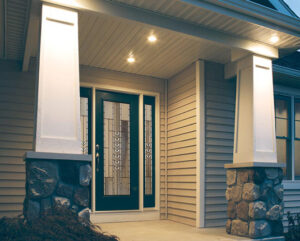 One of the top priorities of BPI has been to improve millwork processes to meet increasing customer demand and supply superior job-ready products. Layne Brandt, the millwork manager of the Sioux Falls location, has been steering these efforts. Instigating these changes has required a three-pronged approach: investing in new CNC technology, reorganizing facility processes to increase efficiency, plus team training and collaboration.
A year ago, the Sioux Falls location had a production goal of 125 interior doors per eight-hour day. With the improvements gained by new CNC technology and optimized processes, their capacity has nearly doubled. They can now achieve an output of a minimum of 225 doors in an eight-hour day. By shifting culture and process, their ability to meet customer demand has dramatically improved.
>> 8 Reasons to Buy Your Doors from BPI
And that's only the start of what they achieved. With innovative technology freeing up time for other endeavors, BPI began to focus on continuous improvement and improving processes, workflow and building a collaborative team.
How BPI's modern technology and team building benefits lumberyards
Meeting Increased Demand
A new CNC machine allows BPI to quickly meet lumberyard's increased demand for top-quality millwork supplies. This is especially critical when customer demand spikes and millwork products are needed quickly.
Enhanced Product Packaging
BPI's enhanced packaging, with thicker cardboard and custom-made pallets, better ensures your product arrives undamaged. Our improved process of packaging shipments of multiple doors going to the same place also makes the receiving process more efficient for your staff. Instead of receiving them on multiple racks, BPI loads them on custom-designed pallets and shrink-wraps them together to reduce damage.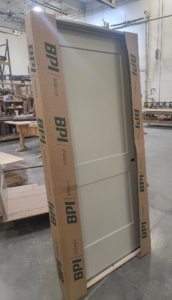 Enhanced Delivery Options
To make things easier for lumberyards and their contractors, BPI can ship related items together as "Job Packs" instead of in pieces and parts to the lumberyard. Plus, we deliver to the jobsite.
Job Packs – If a lumberyard needs 30 doors and any related millwork items for a customer order, the products are tagged, bundled and packaged together to arrive at the same time. Instead of receiving shipments in stages, BPI ensures the lumberyard receives one shipment that is tagged with customer and project information for better efficiency, visibility and traceability.
Jobsite Delivery – BPI can deliver direct to the jobsite for the lumberyard's contractors. The contractor's Job Packs are tagged, bundled and delivered to the job site. Any other millwork related to the job, such as stair parts, hand railings and posts, is also bundled into the Job Pack.
 How an Innovative CNC Machine Improved Efficiency
Previously, all interior and exterior doors were cut by hand. And while BPI has expert millworkers in their facilities, installing a new CNC made production of interior and exterior doors much more efficient and less labor-intensive for their staff.
The computer-controlled CNC machine cuts out the handle holes and preps the door for all types and sizes of locks and deadbolts, plus glass sidelights and inserts. It's more precise and faster than using jigs, routers and jigsaws. With this technology, BPI's exterior door production capability has grown from 35 a day to over 100 per day, and they haven't reached the full capability yet.
And while production improved, the ergonomic benefits to the staff improved as well. Potential muscle strains and injuries from doing the work by hand were greatly reduced.
BPI Team Training and Collaboration Boosted Production
Brandt instituted bi-monthly "lunch and learn" team meetings. These sessions concentrated on several goals: reorganization by improving processes and workflow patterns, training on products and team building and collaboration.
Implementing Lean processes to maximize efficiency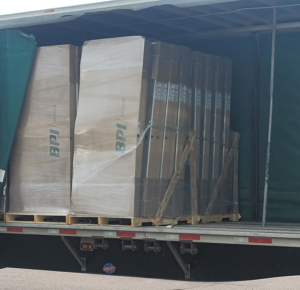 The first step in any lean process is to find the value that the customer needs to cost-effectively solve their unique problems. Once you've clarified the purpose, you focus on the processes used to achieve that value and solve those problems. BPI used their "lunch and learn" sessions to discuss how workflow patterns could be improved throughout the facility, how inventory could be more effectively stored and picked, and how to streamline effort and maximize quality and output.
As Brandt said, "Take input from your employees to address snags in the process and workflow patterns. When you have a new concept, take it to your people. Production wants to do it the easiest way because it's the most repeatable, efficient way. The guy sitting in the office can have the idea, but the people on the floor are the ones that put it into perspective."
>> How BPI Implemented Continuous Improvement Initiatives
Product training for continuous improvement
Product vendors and suppliers were also invited to train the entire group of employees on new products and methods of achieving the highest quality products. BPI uses the world's number one supplier of paint, Sherwin Williams. Their technical experts are regularly invited to train BPI's staff in how to use the material and apply it because, together as partners, we can achieve the best outcomes. We will also invite a door vendor to teach the differences between poplar and oak and why to choose one over the other for a customer's application.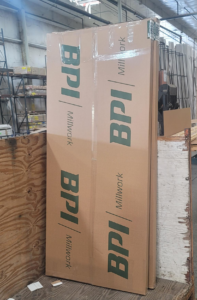 Team building and collaboration
Bringing in mental health professionals to talk about the dignity of work and how to better foster teamwork and communication amongst the group has paid off for us in huge dividends, states Brandt.
It's a team effort to take unfinished materials and components and turn them into the high-quality custom designed piece the customer wants. Because we have multiple departments doing similar work, our "lunch and learn" meetings foster a better teamwork environment. For example, these sessions allowed our paint department to work closer with the door department because one flows into the other. Better communication increases awareness of how one job affects the other and how the product quality from one department to the next adds value for our customers. Knowing how each person plays an integral part of the whole gives our staff a sense of purpose and pride in a job well done.
>> Knock, Knock. Who's There? Elegant Door Ideas for Your Home Reno!

Investing in new equipment often adds value to a company's production goals, but the better investment is in its people. Valuing their input and investing in mental health, collaboration and training have paid off in many ways for both BPI and its customers. If you're looking to build your own team and use their input to change processes, check out our Talent Services Program and contact us for more information.