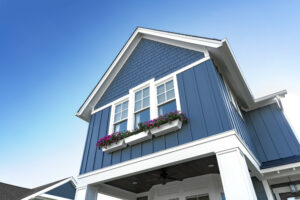 Your home's siding must not only look good; it has to withstand extreme weather and protect against damage caused by fire, mold, moisture, hail, and pests. With the increase in strong storms and drought conditions, selecting the right siding when building or remodeling your home is more important than ever.
Farmers can attest that drought conditions in the Midwest are worsening, and data from the US Drought Monitor can attest. This 2021 to 2022 comparison shows that many states throughout the Midwest are experiencing drought conditions which can lead to an increased risk of fire. This knowledge should impact your decision on what type of siding to use.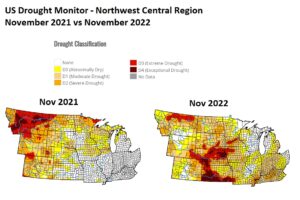 Siding Options: Comparison of material pros and cons
While there are many choices for your home's siding depending on the look you want, we're going to focus on three popular options:
Fiber cement
Vinyl
Engineered wood
Each of these options comes with pros and cons, so we are going to look at the primary factors to consider when looking at what siding to use on your home.
Durability: Of the three options, fiber cement siding outperforms vinyl and engineered wood in durability. UV rays, snowstorms, extreme heat and more can break down siding. The change of seasons degrades materials such as vinyl, which may crack in the cold or soften in the heat. Wood products can expand and contract with changes in moisture and humidity, leaving cracks in the siding and seams. Only fiber cement products by James Hardie are Engineered for Climate® and stand strong against extreme weather.
James Hardie's fiber cement siding was created using the Hardie™ Zone system based on the long-term effects that different climates have on siding. This system helps buyers select the right product for their region. HZ5® products are made to resist wet, freezing conditions, and HZ10® products protect homes from heat, humidity, blistering sun and more.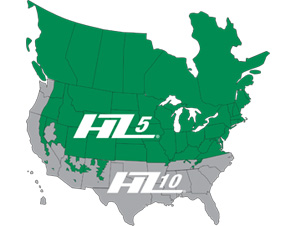 Resistance to fire and heat: Unlike vinyl and engineered wood, fiber cement siding is naturally flame retardant without any additional chemicals applied to its surface.  More drought and fire-sensitive areas now require non-combustible siding products as the first line of defense. Fiber cement, which has a class A fire rating and will not burn or melt, can protect your home in the event of a fire. Vinyl and engineered wood don't have these protections, as fire consumes wood and melts vinyl almost instantly. Hardie siding will not ignite when exposed to a direct flame, nor will it act as fuel to a fire. And because James Hardie brand products are non-combustible, many insurance companies offer homeowners a discount for using them.
Watch this fire test video of these three siding options and you'll be amazed at the difference in flammability and the safety James Hardie's fiber cement can offer your family.
>> Fire Test – James Hardie vs. wood and vinyl siding
Unlike vinyl or engineered wood, fiber cement siding won't warp, deform or burn from the heat of a gas grill or the reflection of UV rays from your car's windshield. Fiber cement also prevents heat transfer, which is beneficial in hot and cold climates.
Impact resistance: Fiber cement and engineered wood resist damage from hail and flying debris better than vinyl siding, which can crack and break from hailstorms. LP Smart Siding has limited warranty coverage for hail damage to its engineered wood products. James Hardie products are known for being extremely reliable and durable, and their warranty covers their HZ5 and HZ10 products in the case of hail damage.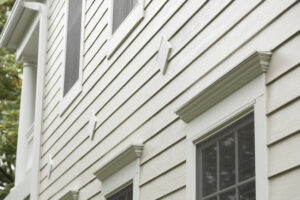 Wind tolerance: Vinyl siding can rattle in the wind and experience "blow offs" when strong winds lift sections of the siding off a house. Fiber cement siding can withstand over 100 MPH winds. (The last house standing in Hurricane Michael had fiber cement siding.) James Hardie also develops and tests blind-nail assemblies that are evaluated and confirmed by independent agencies to resist some of the highest code-prescribed wind speeds. Wind tolerance and aesthetics are just two of the factors that continually bring contractors back to Hardie.
Water damage: Water can cause siding to swell, crack and lose paint, which leads to mold. Exterior solutions by James Hardie are specifically engineered to withstand damage from moisture and will hold their own in rain, sleet or snow. Wood-based siding expands and can buckle or crack when exposed to cycles of precipitation and drying. Vinyl sidings do well in rain or snow but can also crack in extreme temperatures which attracts mold.
>> See why builders choose durable Hardie boards to survive the storm
Pest resistant: Many creatures can damage siding. Insects such as termites, wood boring wasps and beetles can damage engineered wood. Woodpeckers can also extensively damage wood siding, leaving it at risk for moisture and other pests to get in. Hardie fiber cement siding offers little appeal to pests and termites won't eat it – a big consideration in southern states.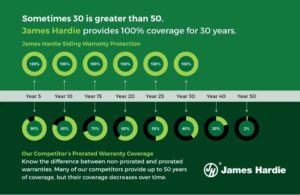 Warranty: James Hardie has the most comprehensive warranties in the industry. Their siding and trim warranty coverage isn't prorated, and they stand behind their siding 100% for 30 years and trim for 15 years. They also include a 15-year, 100% finish warranty on the James Hardie ColorPlus Siding. On the other hand, LP Smart Side offers a 50-year limited warranty on their engineered wood boards, a 5-year limited warranty on their trim and do not cover finishes. Also, unlike Hardie, LP does not cover hail or termite damage. Vinyl siding manufacturers normally offer a lifetime warranty to the original owner and a prorated warranty to subsequent owners, however, a bad installation by a contractor or previous homeowner could void the product warranty.
Resale value: Your home's curb appeal plays a significant factor in its resale value and how quickly it sells. According to Remodeling magazine's annual Cost vs. Value Report from 2022, people who installed fiber cement siding recouped nearly the same value as those who installed vinyl siding. However, those with fiber cement had a much better resale value – around 18.5% higher.
Sustainability: More consumers are concerned about the sustainability of the products they use, and the manufacturing process for vinyl siding is far from environmentally friendly. The process releases tons of volatile organic compounds (VOCs) into the air, which adds to greenhouse gases. Vinyl siding does not decompose and is difficult to recycle, so if you decide to remodel, the siding will likely go to a landfill. If a home catches fire, vinyl siding melts and releases additional VOCs into the atmosphere.
On the other hand, Hardie fiber cement siding, composed only of cement, sand and cellulose, is the greenest siding material on the market. It's very sustainable and the perfect choice for homeowners concerned with the environment. No chemicals are used, and no VOCs are created during the manufacturing process. Fiber cement also breaks down and is recycled much easier than vinyl.
There's so much to consider when choosing siding from durability to fire resistance to resale value.
Talk to the experts at BPI and learn more about siding and trim options and why James Hardie siding is the best choice for your next project, then find an authorized BPI dealer near you.