As a dealer, you strive to serve your customers with the best quality products and services. Builders are busy with deadlines to meet, and most have future projects to plan for. Plus, DIY projects are at an all-time high. There's a high demand for building products right now, which is good news when you are choosing the right supplier.
Think of your supplier as your business partner. Does your supplier provide programs that bolster your success and help you consistently overdeliver to your customers? If not, it may be time to look for a new partner.  Choosing the right supplier is key for your business.
The right supplier will implement programs that support your success and provide solutions to help you serve your customers in a way that builds loyalty and long-term relationships with them. Here at BPI, we survey our dealers regularly, asking about their needs and what support we can offer to them. We've listened to and have addressed several challenges by implementing and/or improving the following programs.
Delivery Picture Program
BPI designed its new Delivery Picture Program with its busy dealers in mind. Deliveries happen all day long, and it can be challenging to keep track of inventory and where it ends up.
Our new Delivery Picture Program requires our drivers to take a photo of each delivery made to a lumber yard or job site. The images are then uploaded along with your delivery receipts into our system for easy tracking, making proof of delivery immediately available to you when you need it. If you're unsure when something arrived or where it was delivered, the Delivery Picture Program will offer some clarity. Each photo has a timestamp and can help you and your staff determine when a shipment arrived, what was included, where it was delivered, and the condition of the shipment.
Improved Packaging Procedures
A lumber dealer's top priority is to provide its customers with the highest quality building materials and millwork products. When products arrive with shipping damage, the costly results could include project delays, unhappy contractors, and dissatisfied customers, all of which place your reputation on the line.
Addressing claims and handling callbacks can take significant energy and man-hours. Sometimes, the damaged product goes unnoticed until the time of installation, escalating costs even further. All of this adds up to extra hassle for you and your customers.
BPI's newly-improved packaging has been field-tested, and it has received positive reviews from our customer base. Contractors are delighted with the condition of BPI products because our packaging innovations help mitigate against damage which can occur during transfer of the product to the job site.
Trim is shrink-wrapped using our proprietary process, and we've adapted how we palletize our doors, siding, and decking to create a more stabilized product that is easier to handle and transport. We've even added customized racking on our trucks to ensure all building materials and millwork arrive in pristine condition.
Expanded and Fully-stocked Distribution Centers
Our facilities in Council Bluffs and Fargo have been transitioned into fully-stocked distribution centers. Dealers near these areas can now enjoy greater access to a wide variety of inventory that was originally accessible from Sioux Falls only. This improvement makes choosing the right supplier simple.
Both locations will feature a streamlined yard layout and bin locations that allow for faster staging, more organized deliveries, and easier pick-up of your orders. We've also incorporated a new Warehouse Management System at each site to help ensure accurate inventory at all times.
Dealers closer to the Council Bluffs and Fargo facilities will now have access to a much wider array of inventory. You'll experience faster delivery times and have the ability to quickly and easily provide more products to your customers. Shorter turnaround times will free up more room for inventory at your location, saving you time and money. Missed deadlines, delays, and extended wait times that adversely impact customer satisfaction will be eliminated.
Dealers from all areas will benefit from this expansion. The increase in the volume we stock and ship from Council Bluffs and Fargo will give us greater flexibility to serve our customers whose shipments come from Sioux Falls.
Here at BPI, we are passionate about serving our customers with excellence and integrity through teamwork and accountability. Contact us today to learn more about how we can partner with you.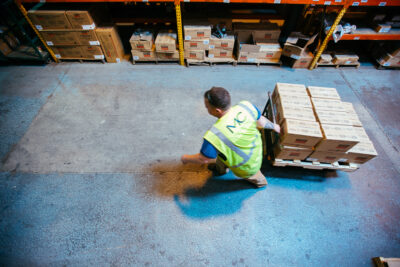 You need a distributor you can rely on. Call the trusted team with the trusted name that always delivers trusted results.