How to Reduce Backorders and Optimize Inventory: 6 Tips for Lumber Dealers
As a lumber dealer, you understand that builders want to meet deadlines and prepare for their jobs. Unfortunately, when building material prices increase like we saw in recent years, dealers were stocking fewer products while their inventory value stayed the same. This challenge highlighted the need to implement strategic thinking to optimize inventory and minimize backorders – to weather any market conditions. Below, learn stock control methods that will keep your customers happy and your business profitable.
Why Is Inventory Optimization Important?  
Every day the demand for products can change, affecting your stock levels. Ideally, you'd like to keep enough products in stock without taking the risk of ordering too much. And, of course, you want to make sure to reduce backorders to keep customers happy.
You're also familiar with the large, often higher-ticket items that can be very profitable but that you don't sell as often. You don't want these larger items sitting on your showroom floor or in your yard because, after all, space equals money.
So, how can you keep up with supply and demand without being stuck with excess inventory or slow-to-move products while delivering quickly what your customers need? This is where inventory optimization comes into play.
Inventory control methods help lumber dealers balance high demand, limited space, and profitability. With benefits including saving time and money, improving cash flow, and delighting customers, inventory optimization is key to navigating today's tight supply environment.
What Is the Cost of Not Optimizing Your Stock Levels?
According to the 2022 MHI Industry Report, more than half of the 1,000+ manufacturing and supply chain professionals surveyed intend to increase investment in technologies for inventory optimization. In other words, 54% (to be exact) consider the costs of poor inventory management to far exceed the costs of these new technologies.
A lack of inventory control methods can lead to:
Increased backorders
Loss of sales due to out-of-stock products
Decreased customer loyalty
Higher shipping costs, leading to margin erosion
If the underlying objective of inventory management is to minimize costs and maximize profits, can you afford not to optimize?
6 Inventory Control Methods for Lumber Dealers
Here are 6 inventory management and control techniques to help you optimize your stock levels and reduce backorders.
1. Collaborate with Your Suppliers
As a lumber dealer, your best partner is a supplier with a substantial inventory of materials and products you need for your customers. Order from a supplier who is large enough to have those products on hand and near enough that they can have them to you quickly to reduce unnecessary backorders.
It's not enough to collaborate with your suppliers only when you initiate the relationship or place an order. You'll want to maintain ongoing contact to help them anticipate the types and quantities of stock you'll need in the coming weeks or months.
With lead times for many building materials at an all-time high, sharing forecasts with suppliers as early as possible will help ensure the items you need will be in stock and that your orders are turned around quickly.
In the same vein, ongoing collaboration with suppliers provides a clearer understanding of whether an item is in stock and when they can get it to you. In turn, you'll be able to give your contractors an informed answer regarding whether the products they need are available.
2. Invest in the Right Technology
If you're tracking inventory using an Excel spreadsheet, it's time to upgrade to a more efficient solution: an inventory management system. This solution monitors stock levels and movement, and can typically integrate with your current sales and shipping platforms.
According to NetSuite, your inventory software should have these three critical features:
Real-time demand planning functionality
Data analysis tools
Near- and real-time data reporting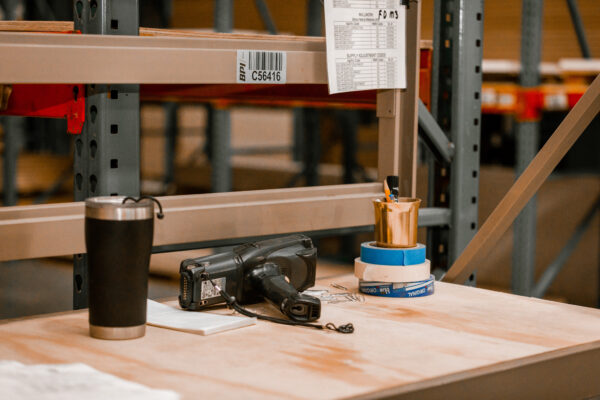 While there are varying software solutions on the market, you should choose an option that is suited for your unique business needs. It should also have the ability to grow along with your business.
For example, implementing a warehouse management system (WMS) at BPI improved inventory accuracy, traceability, and productivity while reducing backorders and redundancy. Our solution seamlessly connects with our enterprise resource planning (ERP) system to provide live inventory updates across our entire organization. This barcoding and wireless technology has improved order processing throughout our warehouse and yard operations, and it can do that for yours, as well.
As you continue positioning yourself as the one-stop shop for builders and homeowners, a WMS offers key data so that you provide accurate and timely shipments every time.
3. Talk to Your Customers
Engaging with your buyers is about more than just good customer service. It allows you to understand which inventory moves well and anticipate changing demands.
The change in consumer demand following the pandemic, coupled with rising lumber prices, make it more important than ever to consider the products your customers will need one, six, or even 12 months in advance.
Communication with customers can also help you mitigate issues before they result in a loss of sale. Say a contractor's shipment arrives damaged due to poor packaging. Maintaining consistent communication ensures you can send a replacement as quickly as possible, upholding the customer's trust before they have a chance to switch vendors.
4. Get Visibility Into Your Supply Chain
Supply chain visibility is crucial to making sure that you get the products you need when you need them.
When you're aware of suppliers' bottlenecks, you'll have a better understanding of how far in advance you need to place an order to ensure timely delivery and meet customers' demands. Without this visibility, you'll likely find yourself with too much of one product and not enough of another.
One practical way to visibly keep track of inventory is with the BPI Delivery Picture Program, which involves photo documentation of each delivery made to a dealership or job site. The timestamped pictures leave nothing to chance, detailing a shipment's arrival time and location, contents, and condition with the utmost clarity.
Echoing tip number one, this visibility should go both ways. Not only should you consider suppliers' processes and lead times, but you should also share with them demand forecasts for the coming months. This allows suppliers to procure the correct raw materials ahead of time so that your operations are efficient and customer-centric.
5. Ditch Manual Processes Where Possible
Automation has touched nearly every corner of the world, improving efficiency in tech, construction, and so much more. Using the inventory optimization software discussed above, you can also automate your stock reorder processes and other repetitive tasks that chip away at your valuable time.
According to AbcSupplyChain, lumber dealers can automate forecasting processes for: 
Demand
New products
Purchasing
Replenishment
For example, the article suggests identifying your most predictable products and automating the whole reorder procedure using your current inventory management software. There are also inventory replenishment systems that use sensor technology for touchless inventory tracking and automated replenishment. Truck tracking software can allow you to follow and share your delivery vehicles' every move, in real-time.
When you save time on these manual tasks, you can devote more hours to serving your customers better and more consistently.
6. Minimize Damaged Shipments
Damaged products bring your reputation into question. When builders receive damaged products, work stops at a job site. When work stops, contractors lose money, and project timelines can be delayed significantly. Contractors aren't happy, nor are their customers.
Reputation aside, damaged shipments can wreak havoc on your cash flow and stock levels. Say a customer orders one of the big-ticket items you'd rather not keep in inventory. In transit, this product becomes damaged due to a poor packaging process. Now, you're unable to fulfill this customer's order on time, leading to frustration and, even worse, a lost sale.
Even if you had a replacement item on your showroom floor or in your yard, you're still out the cost of the damaged item, plus additional packing and shipping expenses. Not to mention, it's one less high-ticket item you can actually sell for profit.
Partnering with a supplier who consistently delivers as promised and delivers items with minimal damage due to an exceptional packaging process is invaluable.
Backorder Best Practices for Building Materials
More often than not, inventory optimization and backorders are negatively correlated: As your inventory control methods decrease, your number of backorders will likely increase — and vice versa. This means that the inventory management methods detailed above will also play a role in minimizing backorders.
Other tips for reducing backorders include:
Have a backup plan: Even when a product is backordered, customers still expect the item to be delivered within the designated time frame. For this reason, it's important to have a contingency plan to ensure customers are satisfied. For example, you could offer acceptable product substitutes or check stock in another location to see if you can "steal" some of their product.
Use real-time data: Live inventory levels allow you to get notified when a product is running low or out of stock, meaning you can restock items on time and reduce the need for backorders in the first place. Many distributors do "pre-expediting" to check if orders have inventory in stock and, if not, are covered by orders that will arrive on time.
Provide customers with timely updates: The key to delighting your customers is open communication up and down your supply chain. Stay in contact with your suppliers so you can let customers know of an estimated arrival time and any shipment delays or changes.
Ensure warehousing expertise: Hiring employees with experience in warehouse management helps make sure your inventory is tracked accurately. Inventory accuracy allows backorders to be fulfilled as quickly as possible or reduces them altogether.
Prioritize high-margin products: When your focus is on selling those higher-ticket items, suppliers will have bigger orders with fewer items, providing more efficient delivery.
Even with today's supply environment, backorders aren't inevitable — but they're not always avoidable either. If your organization is faced with backorder fulfillment, be sure to prioritize keeping customers happy so you keep them coming back.